Who are you?
Brooklyn optimises Customer-Supplier Relationships
Start Today
Do you manage Suppliers?
Are you responsible for managing the vendors that underpin your vital services?

As outsourcing to third parties continues to grow, the role of supplier managers continues to expand to managing the relationships, contract and performance management, risk and compliance, whilst trying to be as innovative and sustainable as possible.

Continuous expansion, manual processes and ever-changing regulations can make it challenging to ensure your business is getting the most out of its supply chain.

The Brooklyn platform provides visibility along your vendor tail. Remove time-consuming manual tasks, and maximise value whilst minimising risk exposure, all through our best-practice governance framework for supplier management.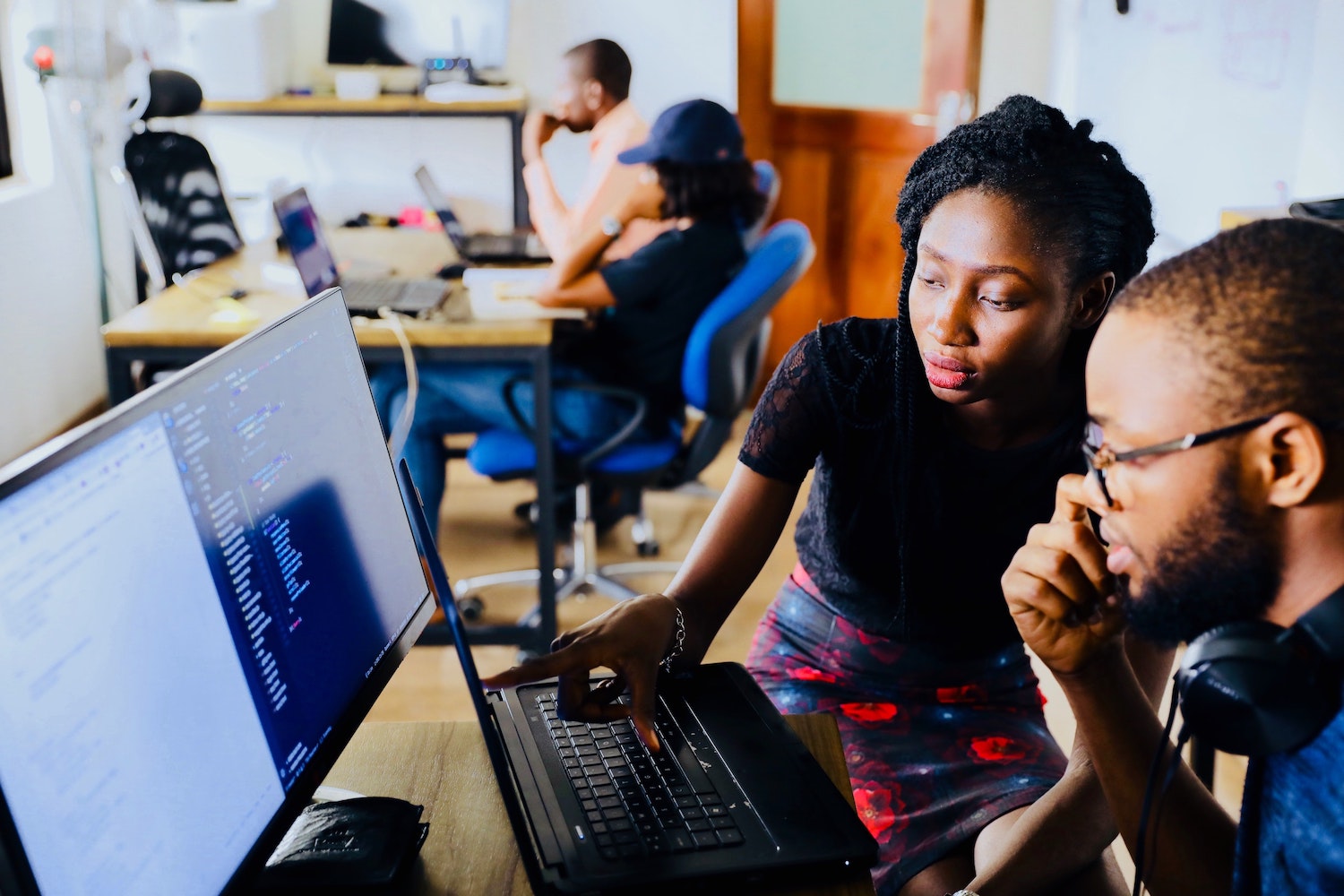 Are you a Commercial Manager?
You are a leading service provider with excellent customer satisfaction, but you need support with managing your customers and staying on top of the sales, commercials and legal support.

Scale your business, win your deals and excel in your service by using Brooklyn Solutions. Our solution connects to your CRM so you can stay on top of your customer management, and ensure you are providing the optimal service without the need for a database of tools that aren't meeting your business needs.

Brooklyn Solutions, an end-to-end solution, helps our customers manage their entire database, capture risk and add value post-contract when it comes to delivering and 100% customer satisfaction is up for grabs. With same-day onboarding, excel in your commercial management today.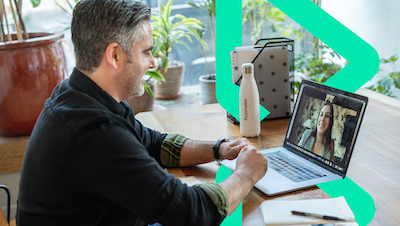 Increase value.
Optimise management.
Secure and maintain the entire supply chain or customer base with Brooklyn Solutions.
Deal Signed. Time to Deliver.
Secure and maintain the entire supply chain centrally with our modular VendorOps suite. Bolster long-term business achievements, and bring a range of automated workflows and governance capabilities to the vendor manager. Realise value quickly, and achieve better vendor collaboration.
Centralised management
Manage all your customer-supplier needs in one place. Introduce a centralised approach to your service, allowing you to see everything from your contract obligations to annual renewals and performance from one easy-to-use platform.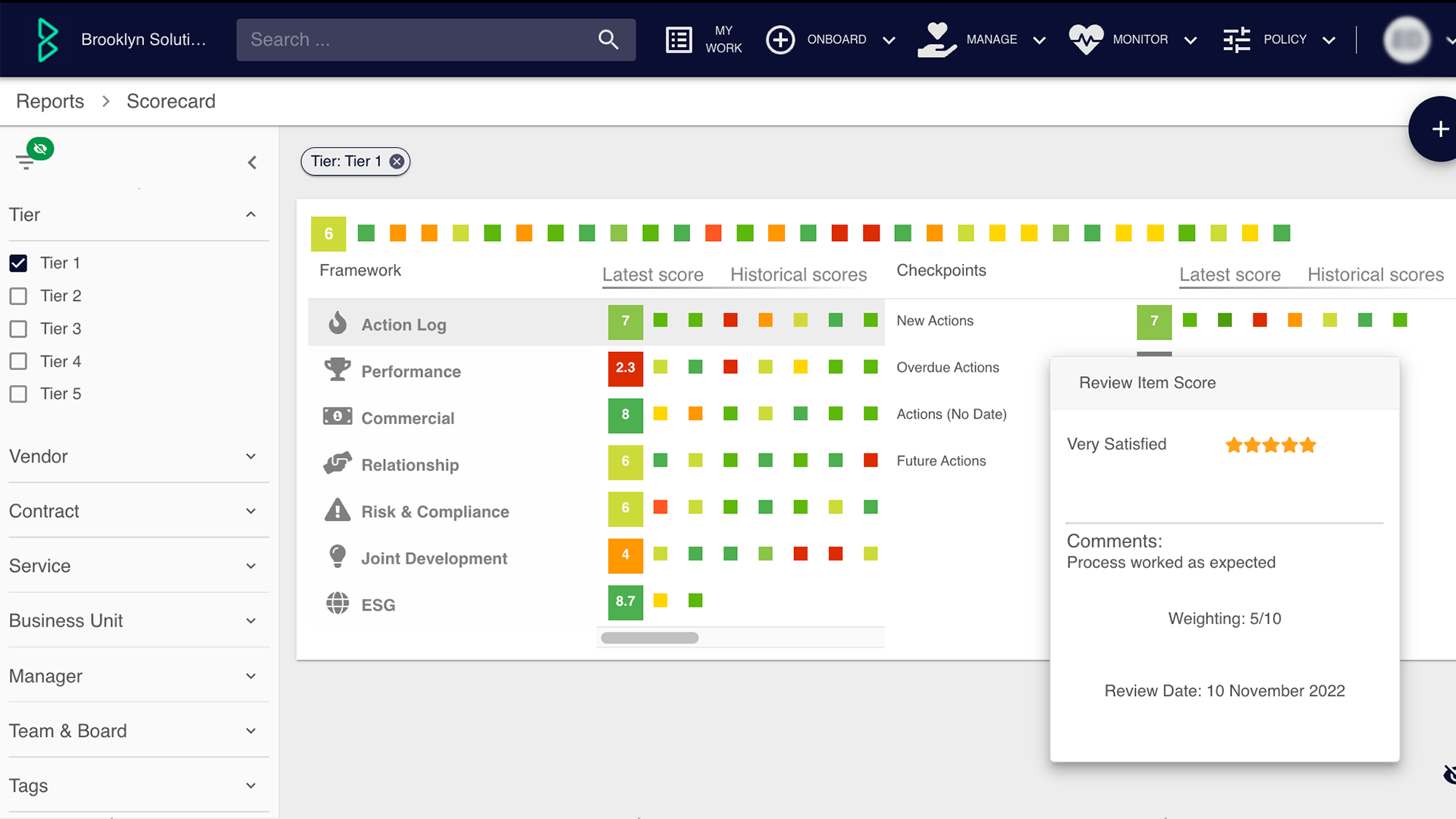 Simple Onboarding
Speed up your onboarding process and reduce time to contract by 20% with our easy-to-use onboarding tool.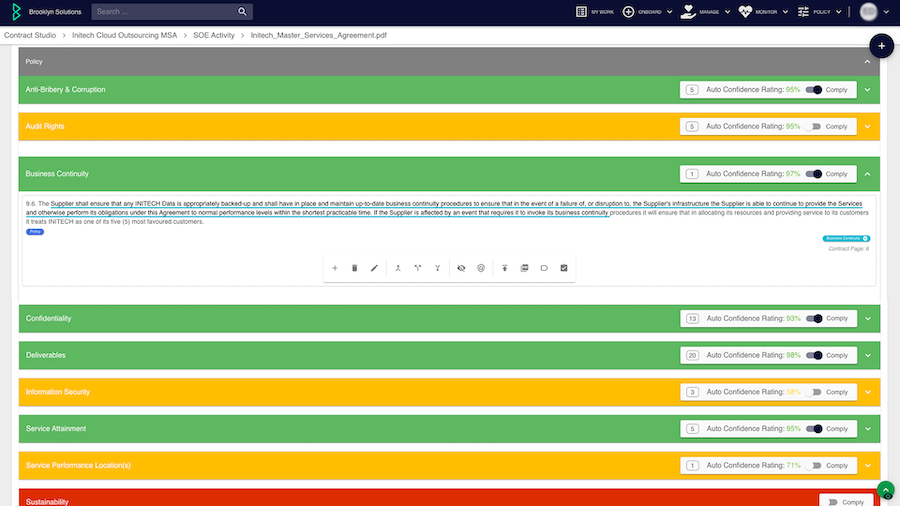 Customer/Suppliers at a glance
Scale with ease. Have access to all your customer's profiles in one place, so you don't have to prioritise but improve your lifecycle management by 75%.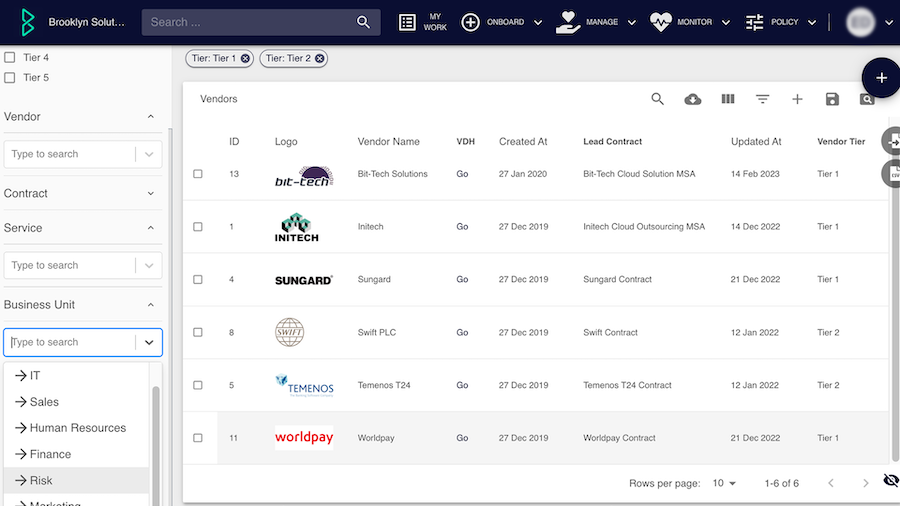 Renewal event log
Keep on top of your customer-supplier relationships. Receive timely alerts for upcoming renewals and negotiations to show your customers you care about their business or to maximise your deal value with your suppliers.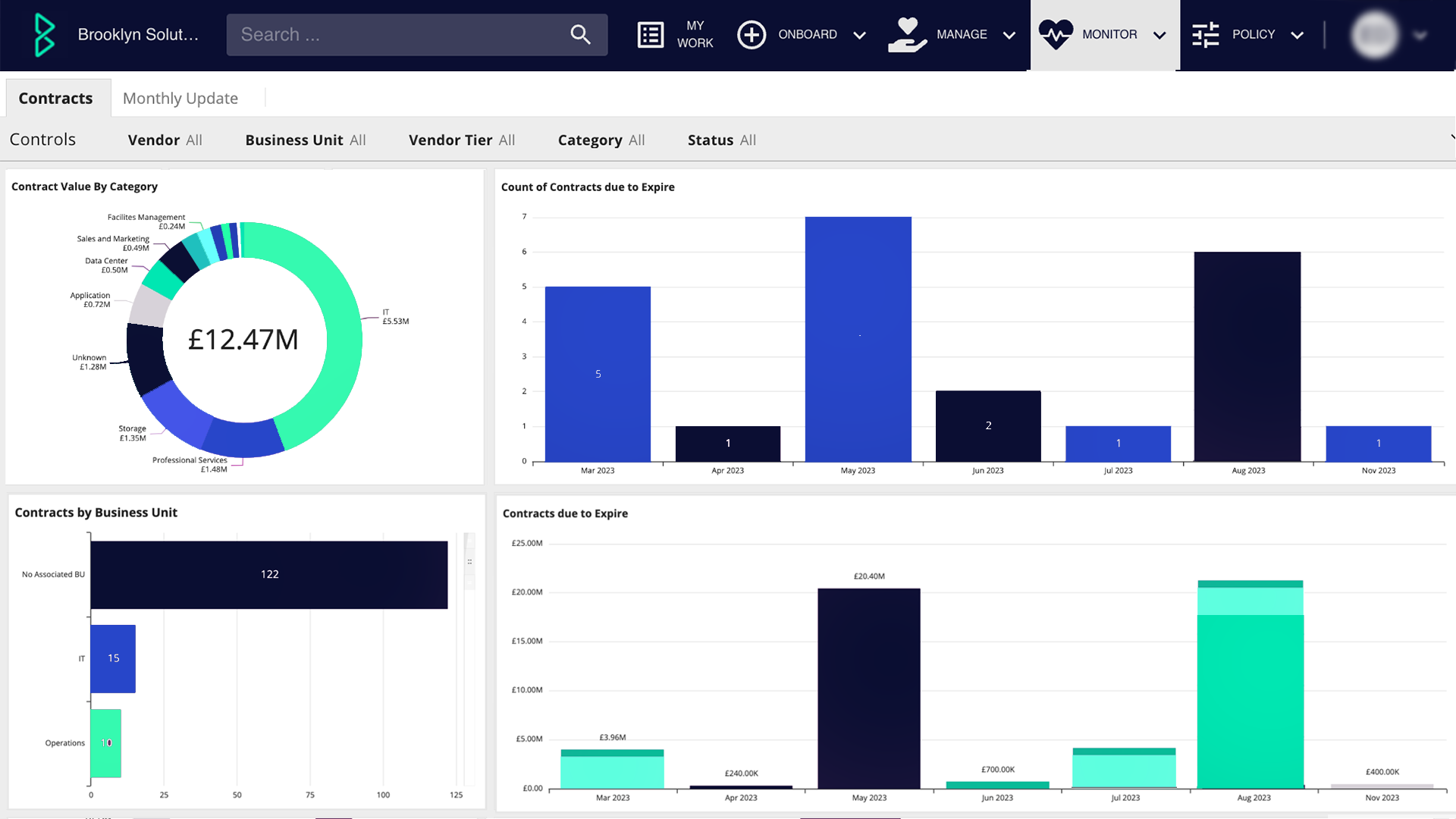 AI Supply Chain Intelligence & Strength
Automate and streamline key governance processes and policies, utilising AI and OCR capabilities against contractual agreements. Recover at least 40% of the time lost in manual solutions.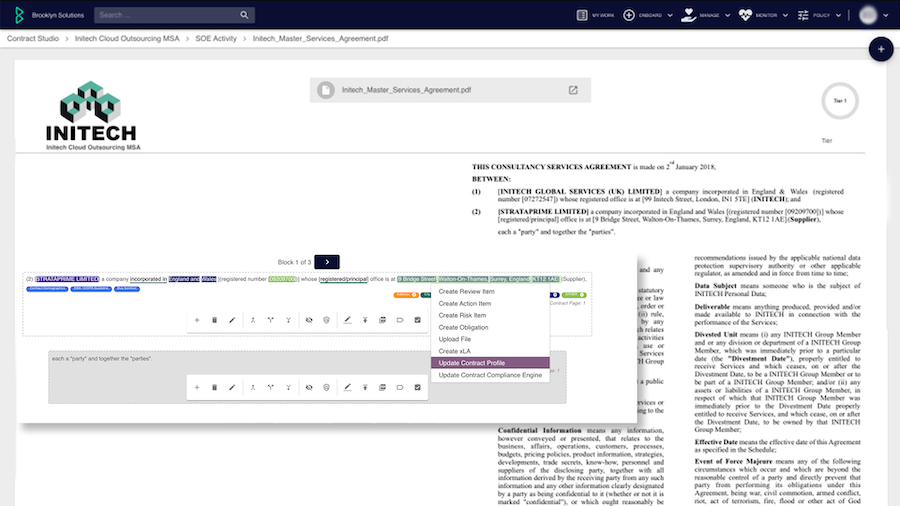 How we can help
Find the solution that will supercharge your team
What type of department do you belong to?
What type of sector do you belong to?
What type of sector do you belong to?
Based on your selection we would recommend the following solution:
How it works
Excel your service performance
Ensure every customers feel like your priority. Our platform helps you manage your customers with ease.
Contract obligation management
Retain real-time visibility and collaboration across your customer base. Digitise your contracts, highlight obligations and segment responsibility between you and your customer/supplier with our automated Smart Onboarding Engine (SOE).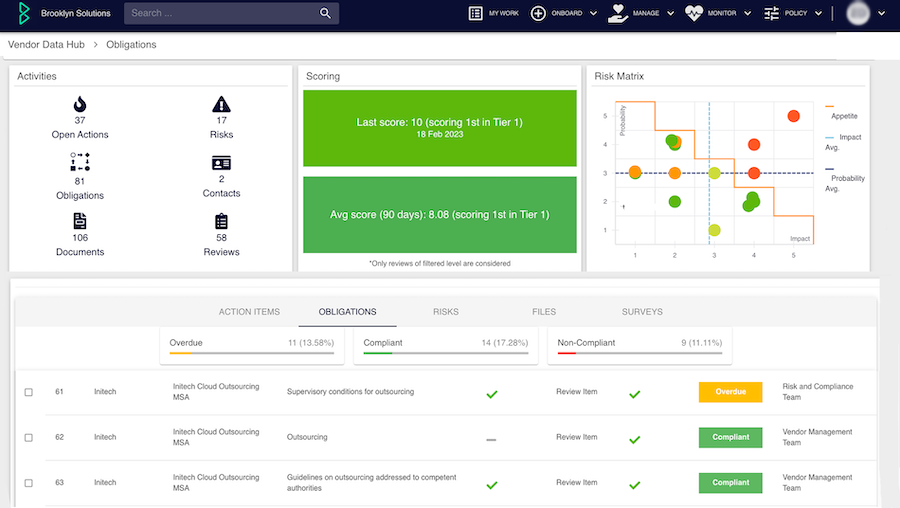 SLA & KPI performance management
Ensure you are providing the best service to all your customers. Track and monitor your performance across your customer base, creating actions to optimise your service without wasting resources.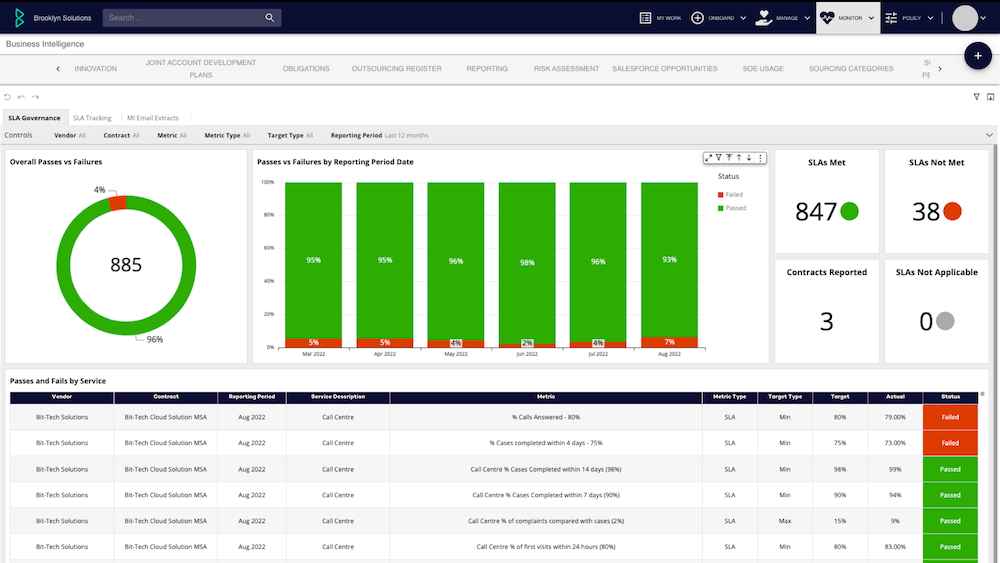 Third Party Risk & Compliance satisfaction
Comply with the ever-changing regulations and monitor risk through our easy-to-use risk dashboards. Provide your customers will a compliance guarantee.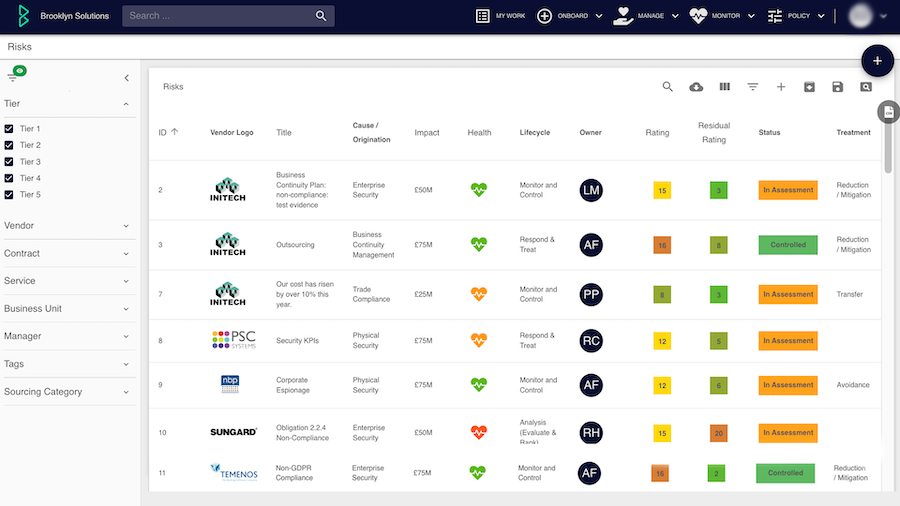 "Do management right…. And it pays for itself ten-fold."
"The (Brooklyn) team create an invaluable rapport with client stakeholders, building trust based on integrity and execution."
"We recently had a situation that required us to contact all our technology suppliers quickly…within the (Brooklyn) platform, we were able to contact and survey our partners at the click of a button…enabling us to respond quickly and focus our efforts where needed."
"Whether you are seeking value for money or detecting problematic relationships with vendors, (Brooklyn) gives you all the information you need to arm yourself for the next governance meeting and address areas of concern head-on"
"We have effectively doubled the number of contracts we can now manage with the help of Brooklyn."
"The system has been easy to use and understand, even prompting actions for completion. When we have had suggestions to improve the system, these have been efficiently made by the Brooklyn team."
"The Brooklyn team are very knowledgeable and provide great guidance on the product capability and applicability of solution elements used within their client base. The team create an invaluable rapport with client stakeholders, building trust based on integrity and execution."