Policy, Governance & Workload Orchestration
Brooklyn is uniquely built to digitise the governance rules and playbooks for managing suppliers and key strategic customers. We call this "Policy" and find that historically, this policy either does not exist at all or lives trapped in a PDF on a Sharepoint with no digitisation and no automation.
Brooklyn users can start small and stand up just a few rules that bring game-changing transparency and automation. Sometimes this just enforces review of key obligations form key suppliers. Sometimes it fills the gap in a risk management policy – driving actual results including better risk management and mitigation from first usage. From there a user can choose to implement more, as and when they like, driving all the outcomes below pursuant to their own operating model.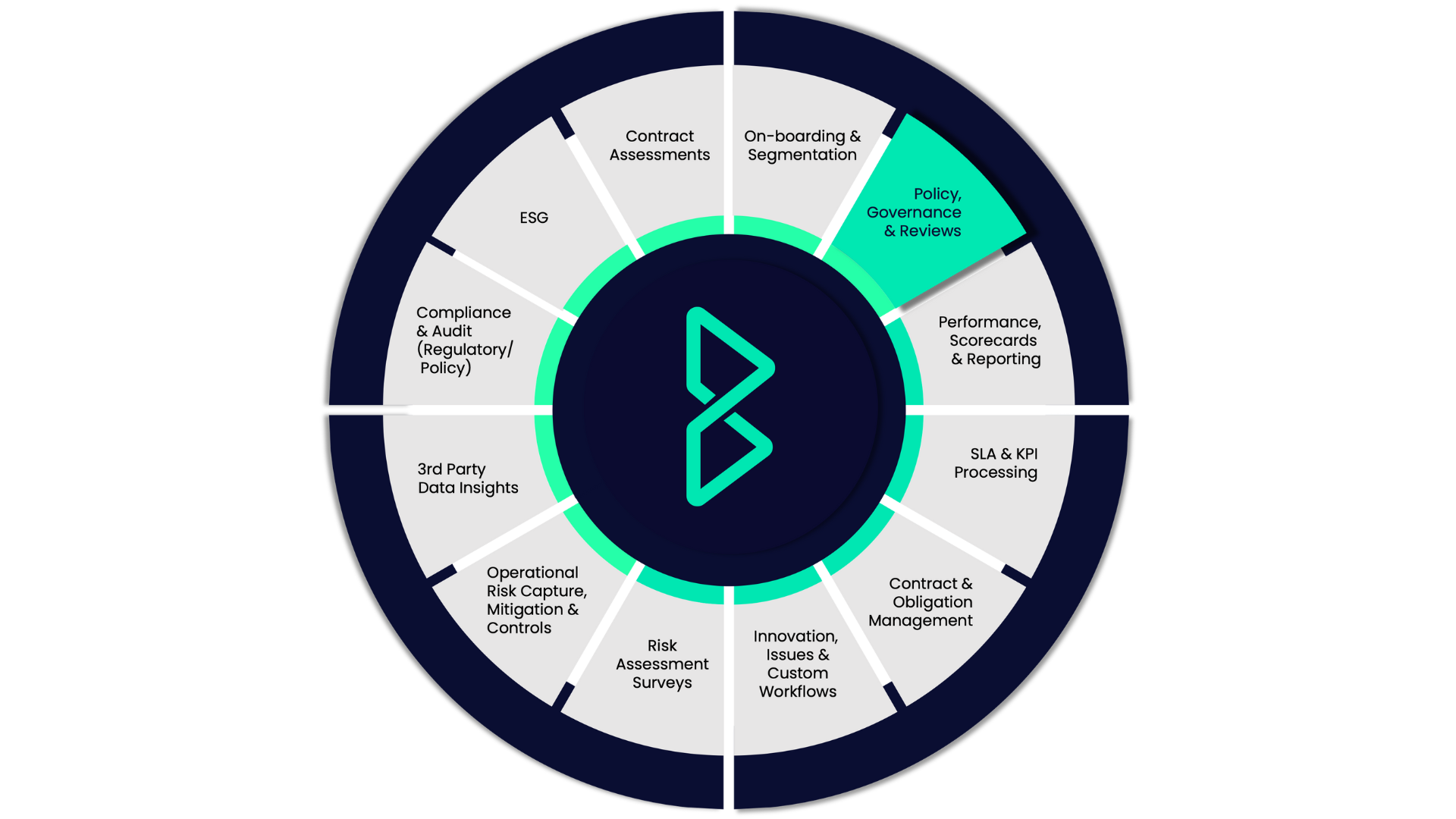 Governance often comes in two guises, the first in the context of the deal or the contract itself and the second is aimed at a demographic e.g. a contract type such as all 'Outsourcing" deals or all 'IT Cloud Service Provider' contracts. It is now common place for organisations to have policies and standards that are often backed by industry-specific regulations that impact managing certain types of customers and/or suppliers in a different way.
The nuance here is that these are NOT contract-specific but Segmentation or Demographic aligned. As an example, in the Finacial Services sector, the various regulatory bodies have released in-depth regulations on Critical & Important outsourcing which covered 16-20 processes that need to be periodic run on all contracts that qualify.
When this is the case and there are governance standards, these policies must and can only be targeted and reported on by policy groups. Brooklyn has been designed to do just this and is able to create these groupings in standardised ways such as Segmentation, Business Units, Service Categories, Sourcing Categories and Contract Types or through Customisable Tags meeting all and every combination possible.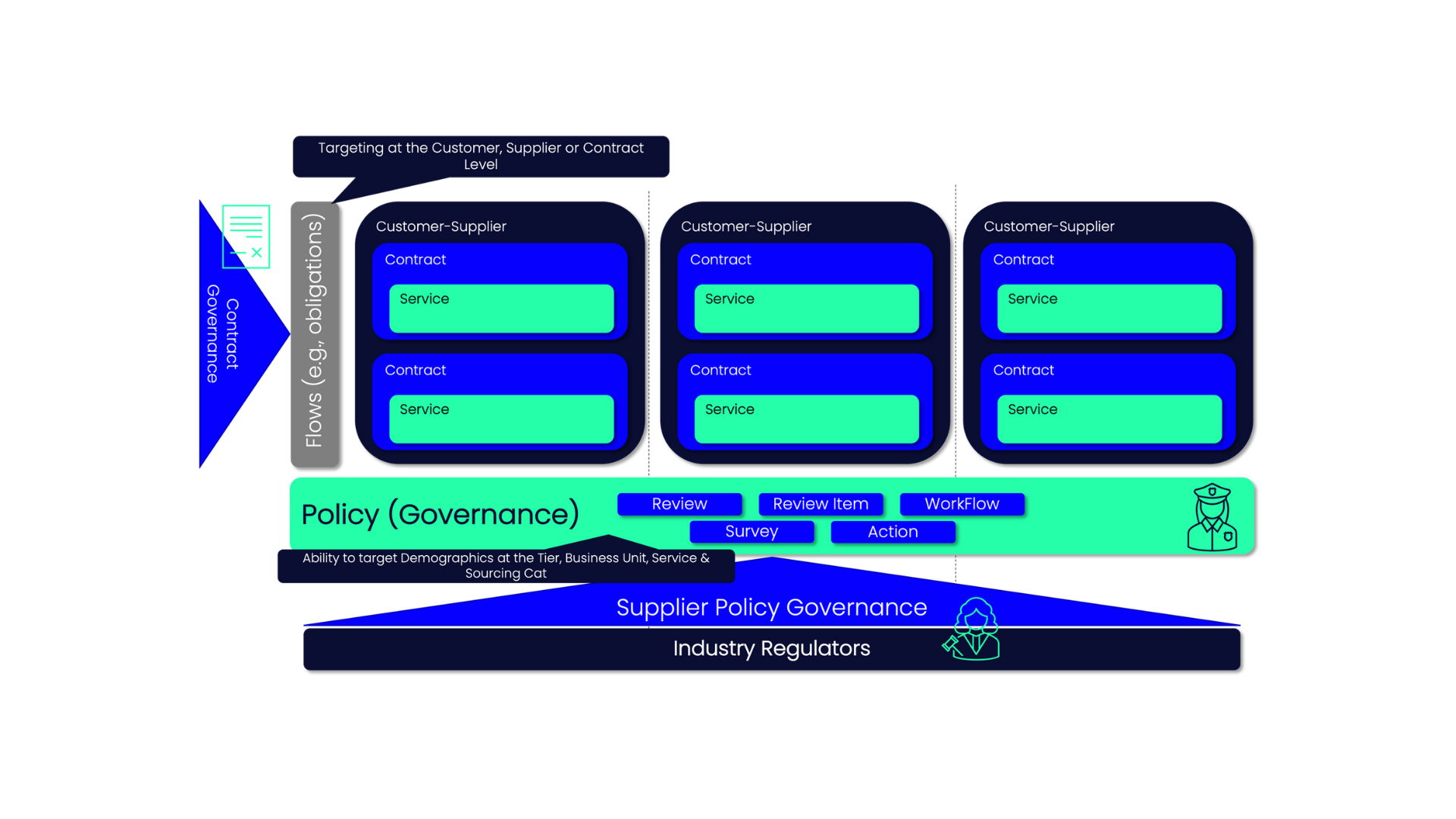 Streamline your Customer/Supplier mangement
As the Head of Supplier Mangment or being in a Senior Manager's role, one is faced with complexity of keeping track of the many roles and responsibility when interfacing with suppliers.
Managing the complexity of the many roles that interface with suppliers.
Different contracts require different levels of oversight and governance.
Pockets of best practice.
Regulated industries have no way to demonstrate compliance which results in a risk of being fined publicly.
Policy, Governance & Workload Orchestration
Brooklyn Solutions
Automate policy governance across your vendor tail
Brooklyn's platform gives you the ability to deploy policy against different Customer or Supplier segments and demographics by allowing you to:
Review governance calendar and key events.

Prepare and run supplier meetings.

Score customers and suppliers in terms of compliance to governance.

Automate policy-related actions, risk assessments, & performance surveys.

Digital Policy and Framework with full awareness of governance tiers that best apply to each contract.

Role-based orchestration/my work.

Ability to create a c

ustomisable governance engine.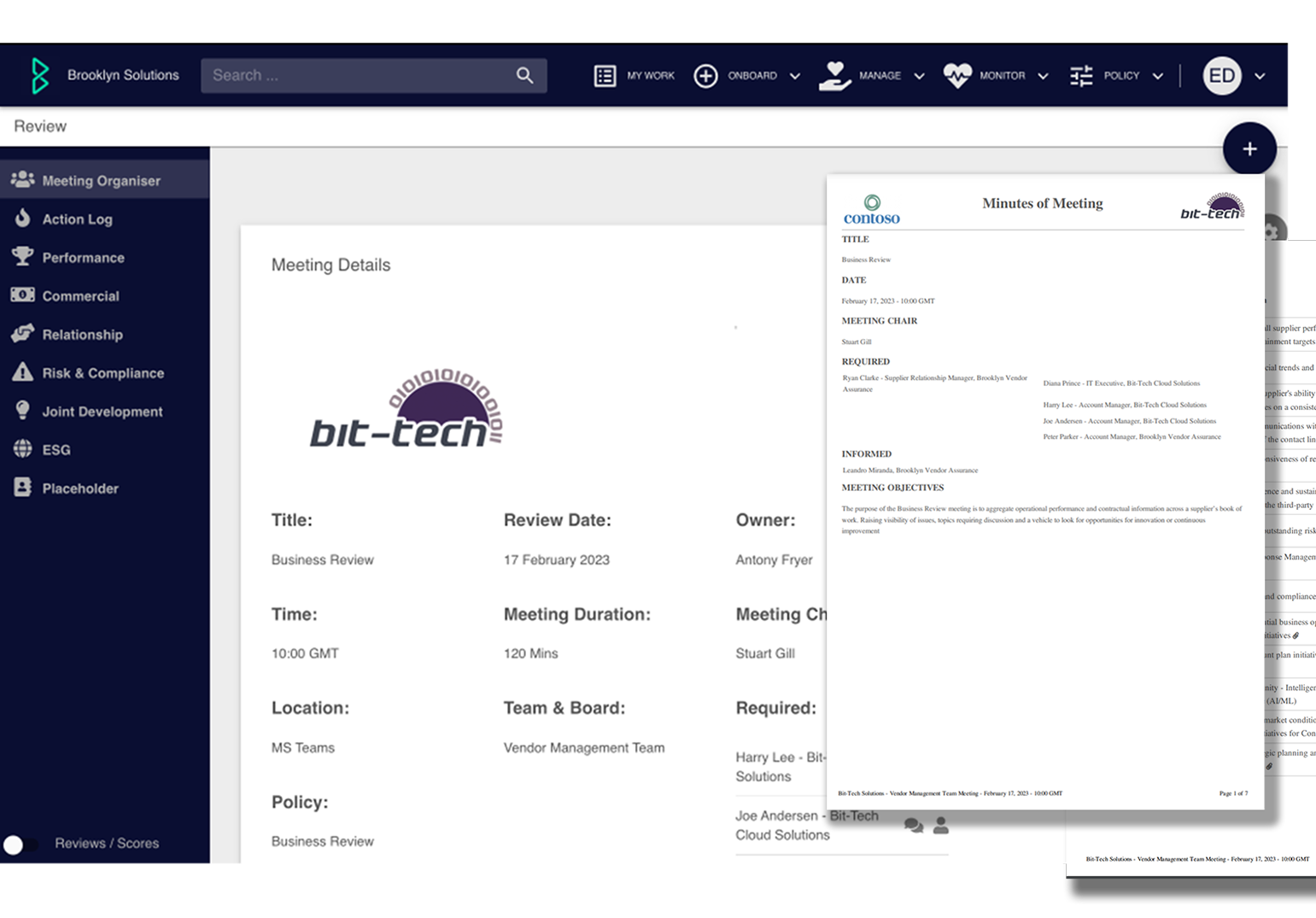 Why us?
Brooklyn will help your organisation move from a subjective to a fact-based relationship which allows you to drive better business decisions.  With this solution you will be able to distribute customer and supplier supplier management policy and standards which allows you to hold all parties to account and drives improvement.
The Brooklyn platform will allow you to:
Coach, Enable and Empower all roles.

Increase SM / SRM / CVM Capability and Effectiveness.

Increase agility to align suppliers to business objectives.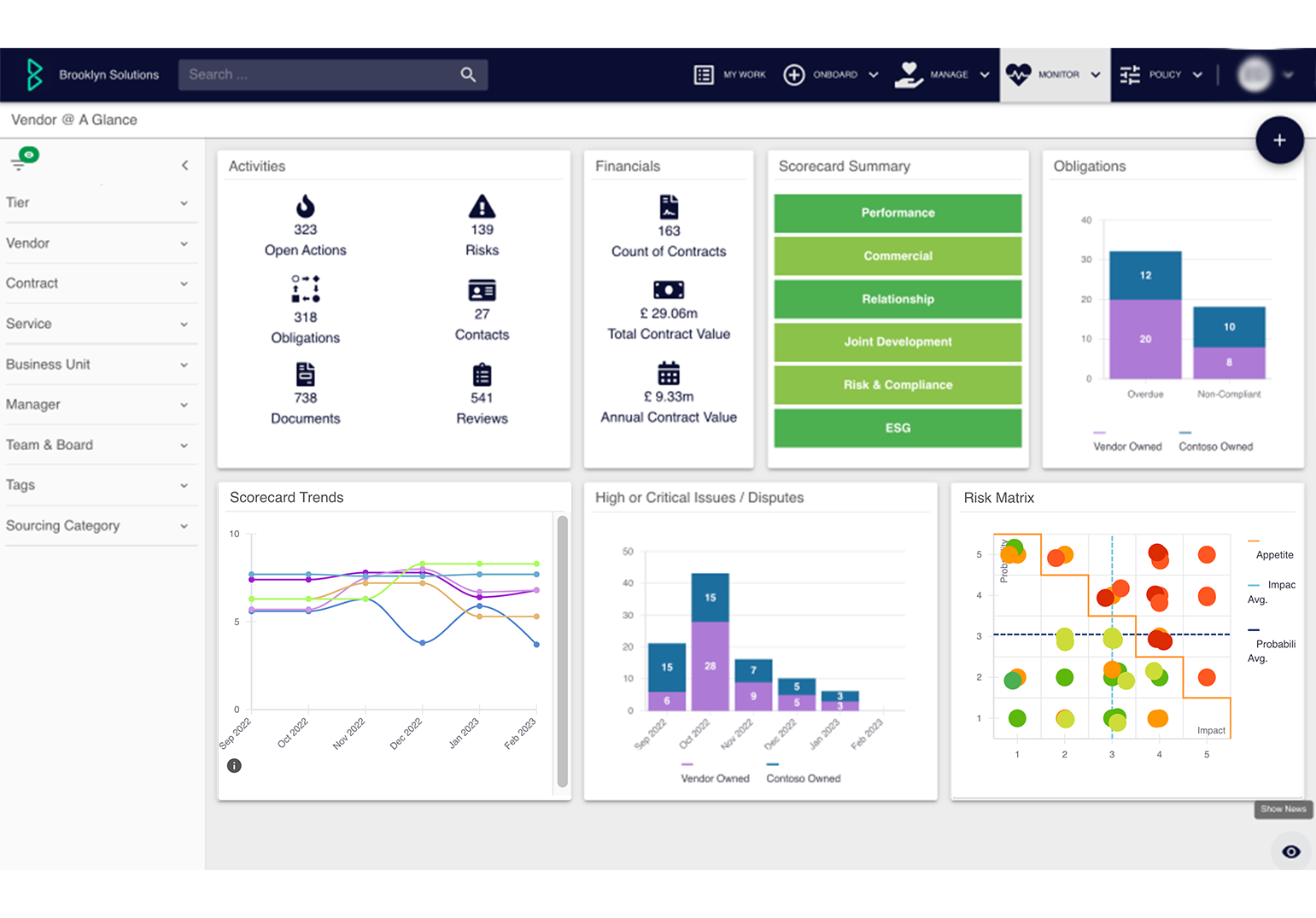 Want to learn more about how Brooklyn can help your organisation solve the daily challenges around Policies and Governance?
Explore Brooklyn Solutions