Contract Assessments
The biggest challenge for Procurement and Contract Managers is ensuring the supplier relationship is effectively managed post-contract. Similarly if you are a supplier, this is where the hard works starts to ensure you are providing the ultimate service to your customers. Once the deal is signed, and agreement has been made on the obligations and SLAs from both parties, it is difficult to know how to action these and delegate responsibility across your organisation.
A lot of obligations are stuck in the a paper contract, making it difficult to track the requirements for an obligation, the process with each organisation having different requirements and staying on top of timeframes. The Brooklyn platform makes managing post-contract deals simple, with our Smart onboarding engine digitising and extracting all the information you need from a contract, triggering events and actions to complete your SLAs and KPIs on a macro-level all within one platform.
Gain added value post-contract
Post-contract made simple. Remove the manual burden and create easy to manage deliverables with Brooklyn Solutions.
With non-standardised key terms, it can be difficult to quickly identify the key information from a contract such as the demographics, obligations and compliance requirements.
Inconsistent processes and ever-changing requirements can add huge manual burden to project management delaying in delays, unsatisfied customers and more.
Project management across departments, resources and tools can make it difficult to follow the actions required and those that have already taken place making it extremely difficult to track gap remediation.
Contract Assessment
Brooklyn Solutions
Extract and manage your obligations with ease
Brooklyn's Smart Onboarding Engine allows you to digitise your contracts and extracts metadata and key search terms. Identify all obligations from a contract within a matter of minutes. Utilising our user-friendly custom configuration, trigger actions from any contract as a series of events to easily manage your step-by-step deliverables to your customer or supplier.  Easily stay on top of your tracking all through one platform, whilst minimising risk through best practices in post-contract and compliance across all relationships.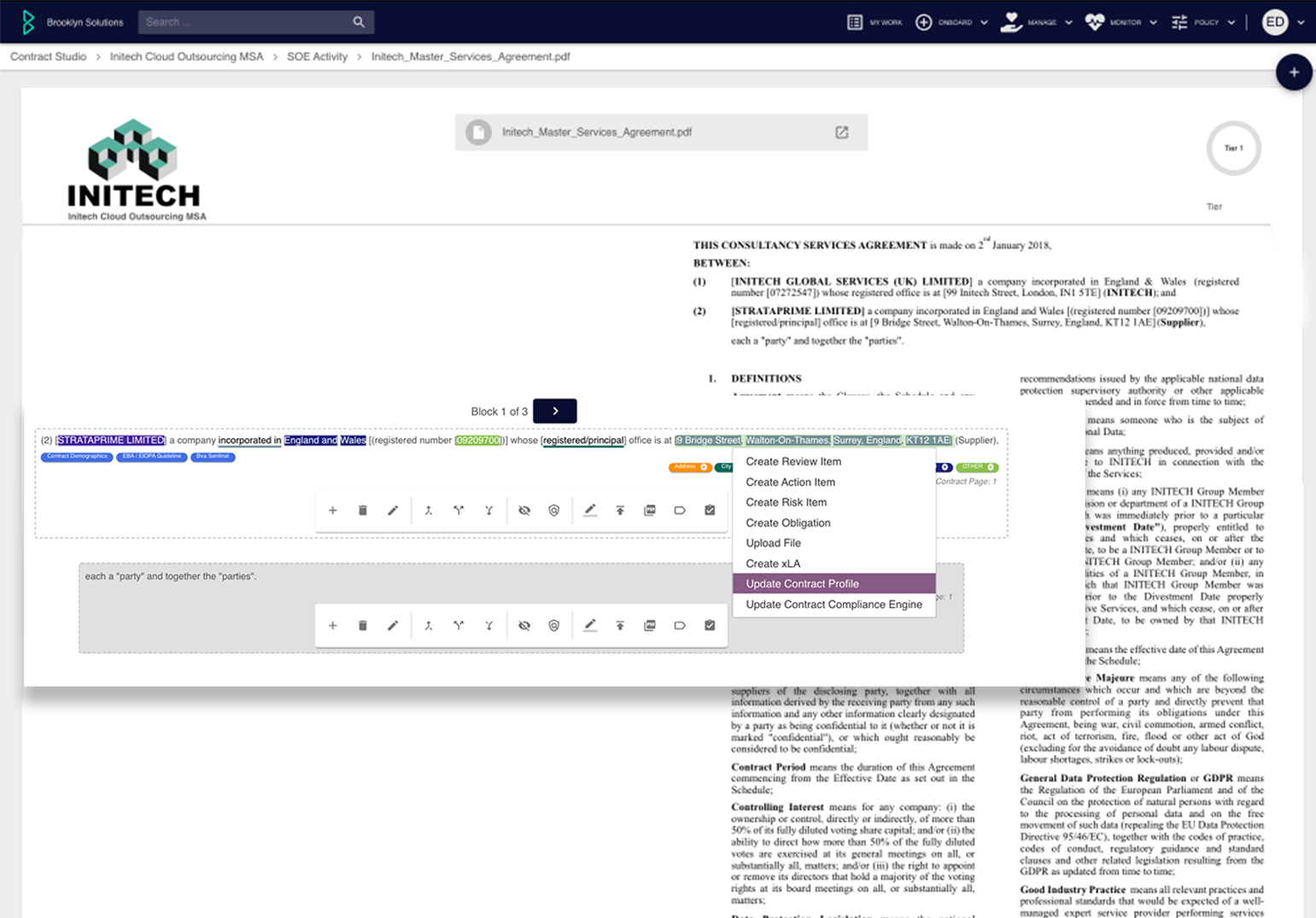 Why us?
Brooklyn helps you reduce time and complexity of onboarding new customer or suppliers with the ability to scale with ease.  Here's why you need Brooklyn Contract Assessments:
Digitise your paper contracts to identify and close compliance gaps at scale
Track actions and risks to simplify your progress allowing you to easily meet your obligations
Increase coverage across your supply chain and a robust and auditable process, all within one platform.