Performance, Scorecards & Reporting
Head of Procurement, Customer/Supplier Management get limited or no visibility of their deal performance across their supply chain. Those working in Customer/Supplier management: such as Commercial Leaders or Contract/Deal Delivery leads require an automated and dynamic approach against a best practice framework.
Limited visibility across your entire supply chain could result in unawareness of unmet compliance against policy and external regulation.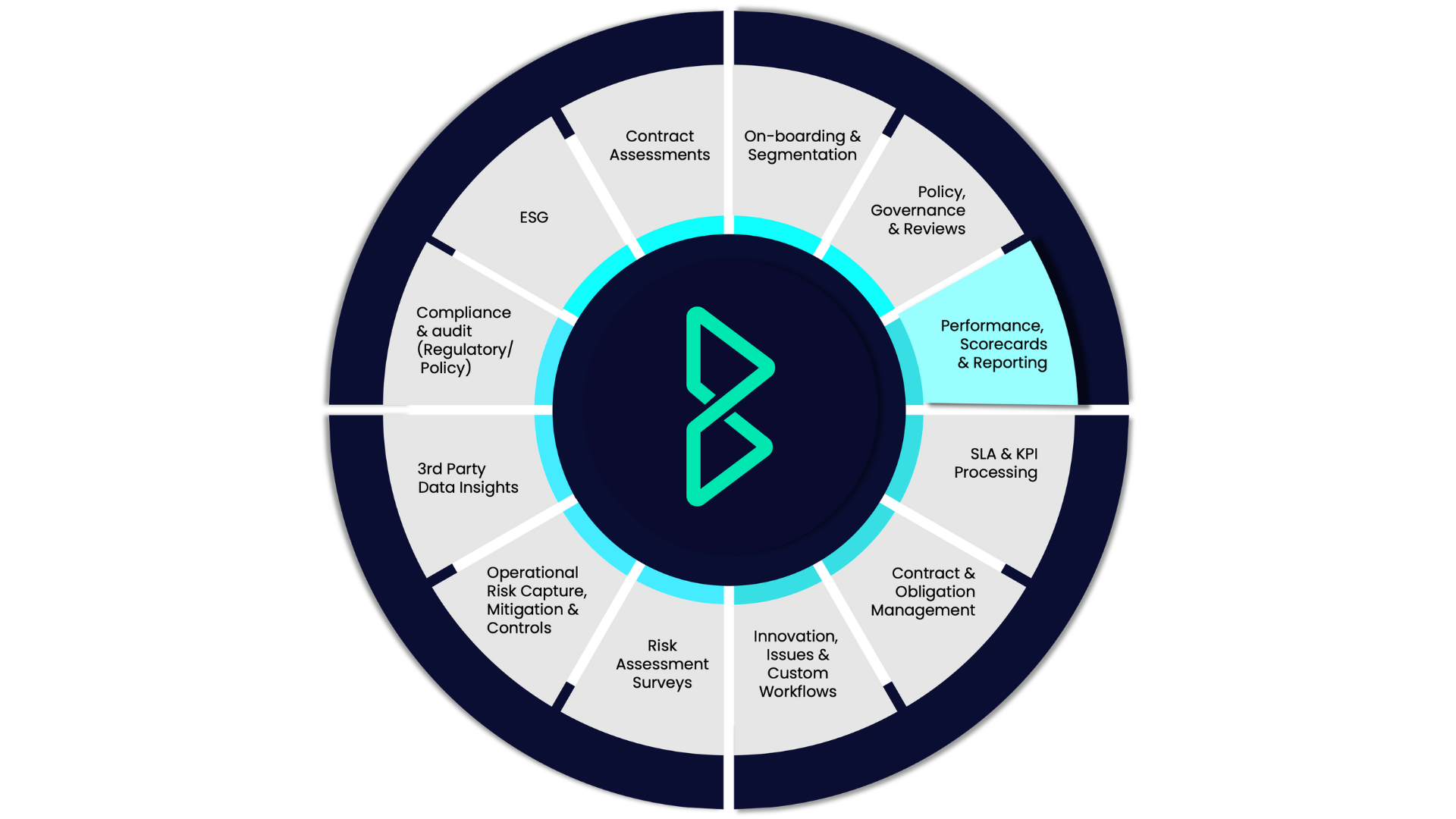 Streamline your Customer/Supplier mangement
Keeping track of your Customer/Suppliers performance can be straining on internal resources and challenging to maximise value.
Difficult to effectively evaluate Customer/Supplier performance with limited visibility and data silos.
Inability to calculate Value leakage or Operating profit.
Hard to identify where to focus your metrics and KPIs to measure with thousands of unique metrics and data points across contracts.
Lack of central repository across the organisation to reference and hold data on entire supply chain.
Compliant Risk of fines and legal impact if regulatory guidance isn't being followed or complied with (Regulated industries & Regulatory Bodies).
Customer or Supplier Performance, Scorecards & Reporting
Brooklyn Solutions
Performance monitoring across your vendor tail
Gain a 360° of your Customers, Suppliers and all third parties providers receiving a wealth of insight across your supply chain.
Brooklyn's scorecard and reporting functions provide a holistic performance metrics in real-time across your vendor tail. Evaluate performance management with ease, gaining access to:
Oversight and executive reporting
Oversight of customer and supplier portfolio
Real-time & Dynamic performance tracking
Complex relationship mapping
Ability to plug in and ingest third-party system data deriving value insight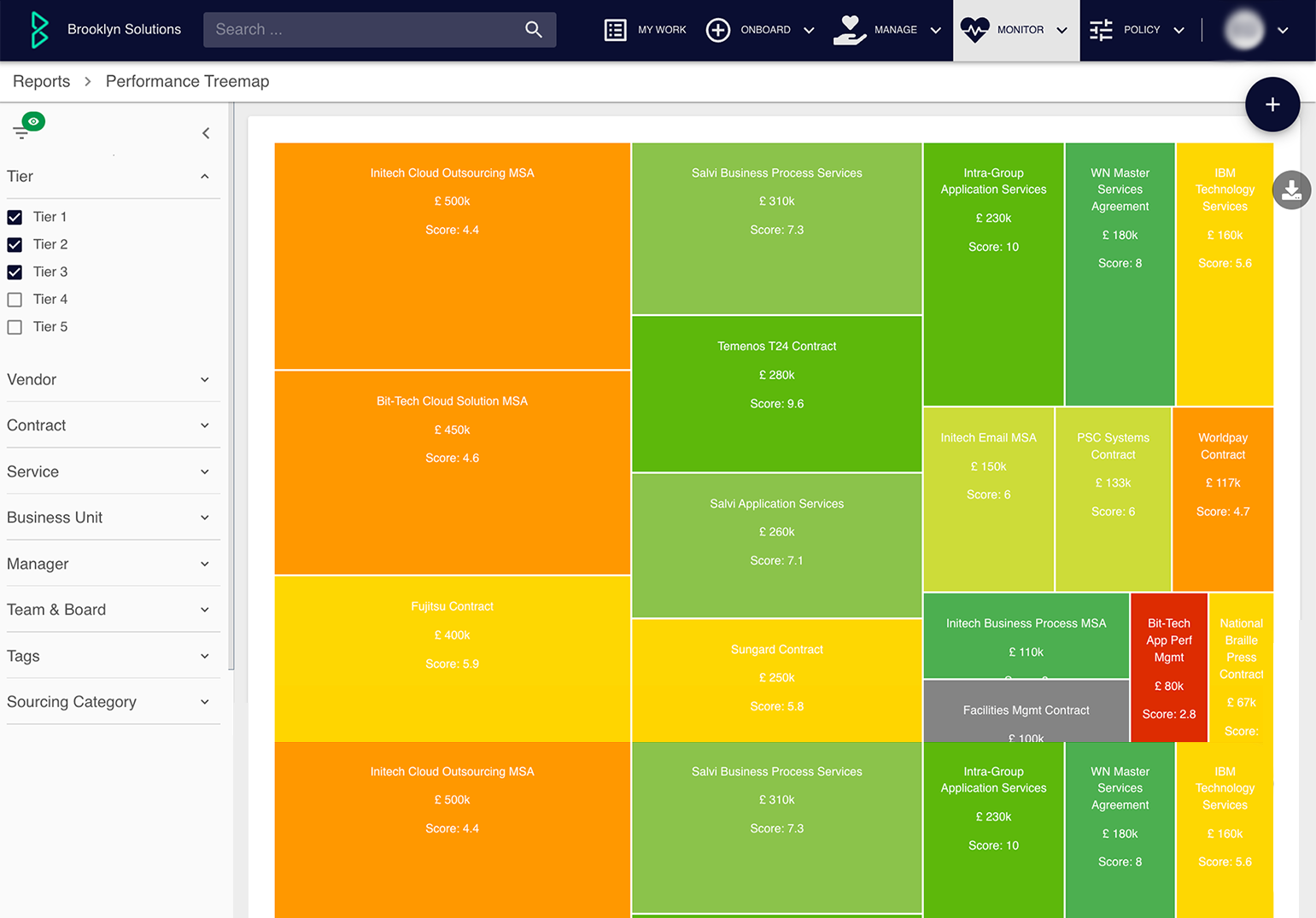 Why us?
Make better informed renewal and supplier consolidation decisions with Brooklyn's Vendor performance and scorecard tool. Optimise your supply chain and maximise value across your entire supplier portfolio.
Proactively monitor compliance with policies across your entire portfolio, whilst determining the average performance across the entire landscape by business unit, service group or team.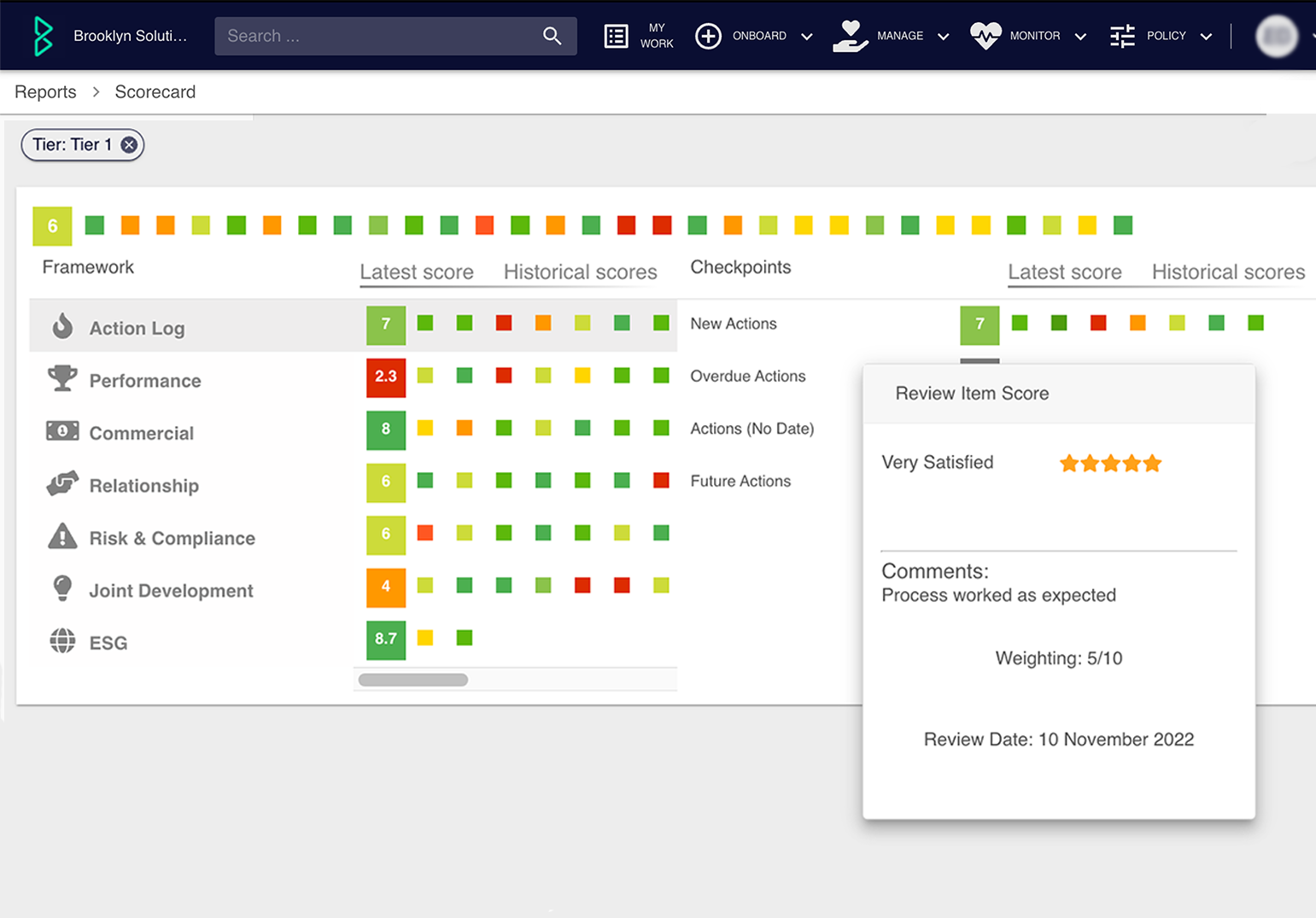 Want to learn more about how Brooklyn can help with measuring Customer or Supplier Performance and Scorecards?
Explore Brooklyn Solutions